Lager Lovely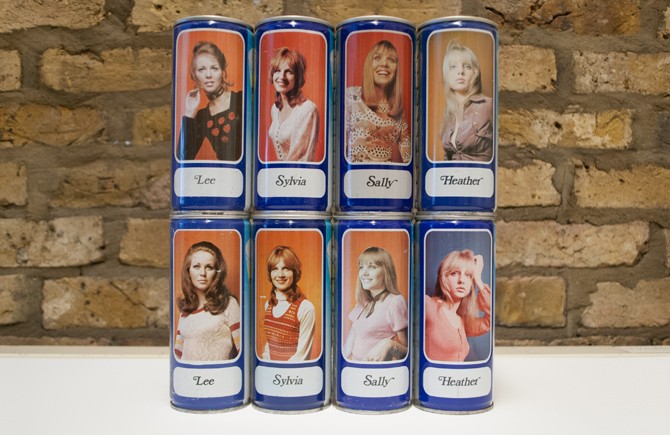 The empty lager cans which sit on one of the shelves in our studio are always a talking point amongst visitors, but not for the reasons you may imagine. Produced by Tennents Caledonian Breweries in 1972, the cans feature the third series of what were known as the Lager Lovelies, an iconic packaging approach which lasted for more than 20 years.
Although the canned beer market in Britain only really emerged in the mid 1950s, by 1957 there were more than 30 different brands competing for market share. This saturated marketplace prompted Scottish Brewers, Tennents, to radically rethink their can design. Their ubiquitous and enduring 'two glass' illustration which remained practically unchanged for 30 years and provided a literal representation of the cans content, only covered two-thirds of the cans surface. Having originally explored the idea of selling the remaining space to manufacturers of products which were purchased to accompany beer – nuts, crisps, cigarettes etc – this was abandoned for administrative reasons.
In 1959 Tennents began experimenting with photographic imagery when they launched their first Scottish series, featuring iconic Scottish landmarks. With the photography changing every 12–15 months, eighty different scenes were featured over a three year period, practically exhausting the Scottish Tourist Board image library. Perhaps influenced by the success of the Milk Marketing Boards advertising campaign featuring model Zöe Newton, in 1965 Tennents launched their first series of designs exclusively featuring model Ann Johansen. So phenomenal was the response to the new packaging, that from 1965–1969, Ann featured on every can of lager and export ale produced by Tennents. When Ann retired from modelling after a third series, Tennents – understandably nervous at replacing someone who had become synonymous with the brand – opted instead for a series of different models and in 1969 the Lager Lovelies were born. They were to have a particularly enduring reign and over the next twenty two years, 12 different series of Lovelies adorned the cans until their demise in 1991.
My thanks to Charles Schofield and Antony Kamm who's book Lager Lovelies provided the background to this article.
Share